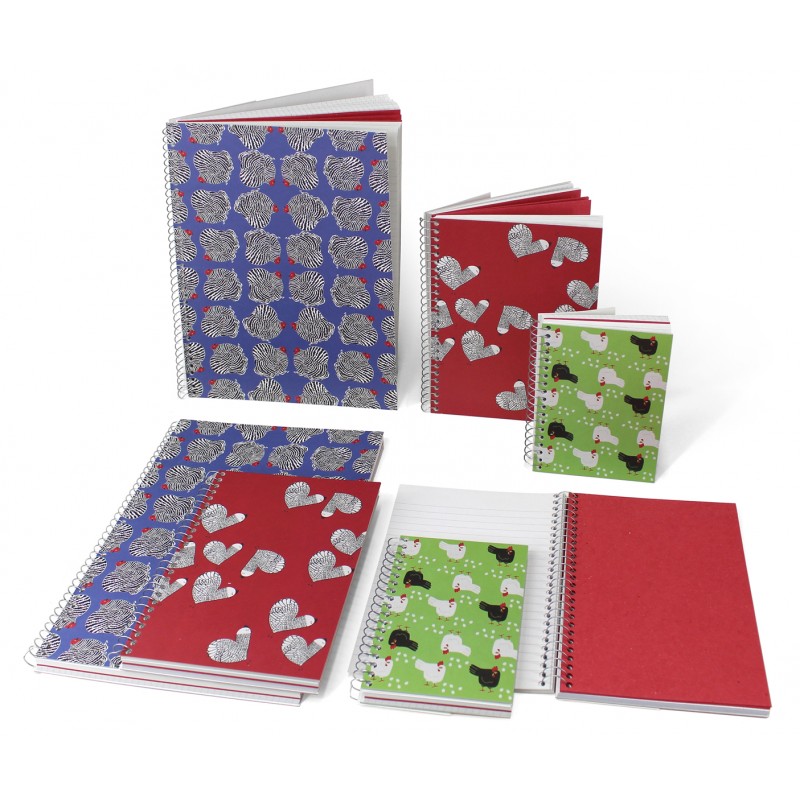  
Spiral Notepad Chicken Pack 10 pieces
Spiral Notepad Chichen in recycled paper. Available in 3 sizes. Pack 10 pieces.
Double face Spiral Notepad "Chicken" - HardCover in printed recycled paper. Inside 50 ruled (grey color) sheets +10 cartapaglia red sheets + 50 squared (grey color) sheets in recycled paper 80grm.
SIZE A4 - COCHIN-CHINA CHICKEN: Its round, harmonious shape makes this breed of chicken a true work of art. The softness of the short, broad feathers gives the tail an unmistakeable look which also cover all the feet. . It is a very friendly bird. Its name is derived from its ancient origins in the Chinese region of Cochin (Cochinchina).
SIZE A5 - SEBRIGHT CHICKEN: The Sebright is renowned as the most fascinating and attractive of all chickens due to its elegant, attractive and refined appearance. The contrasting colour which highlights the edges of the feathers is its most unusual characteristic. The Sebright "baronet" is very friendly towards people and, given its origins in the splendid Besford estate in Worcestershire, it is fun to imagine it romantically perched on a branch in the garden waiting for tea at five o' clock.
SIZE A6 - LEGHORN CHICKEN: This breed takes its name from the port of Livorno in Italy, from where it departed for America at the beginning of the nineteenth century, subsequently gaining a reputation as an excellent layer of white eggs with unique properties. It is a free-range, lively, active chicken which loves wide open grassy areas in which to forage. It has a slim, lightweight body, typical of Mediterranean breeds, and a typical comb, folded over on one side, which gives it a comical roguish look.
Find out more info on recycled paper and other recycled materials used by Arbos
Specific References
ean13

8051166411379